Rajah Serfoji Government College (Autonomous) is the oldest institution providing quality higher education to all sections of society. Started with a view to catering to the educational needs of the socially, economically and educationally disadvantaged sections of society, the college has been providing higher education to all, since 1955 in the Thanjavur region of the Cauvery delta.
The college was granted autonomy by the UGC in 2004. Since then the college has been developing the curriculum and syllabi for the students as per the guidelines provided by the UGC and the affiliating University. The college went for NAAC accreditation in 2000 and subsequently re-accredited in 2007 with B++grading and in 2016 with A grading. Now the college is in the forth cycle of reaccreditation. After the second cycle of reaccreditation the college has started 16 UG courses, 6 PG courses, 9 M. Phil. programmes and 19 Ph. D. programmes. At present, the college offers 22 UG programmes, 14 PG programmes, 9 M. Phil. programmes and 20 Ph. D. programmes in Science and Humanities. All the UG and PG courses are offered under semester system following Choice Based Credit System. The college takes keen interest in developing various skills among the students by offering enrichment, add-on and skill development courses. In order to develop computer skills among the students the Computer Literacy Programme (CLP) is offered to all the first year UG students. The curriculum and syllabi for Under Graduate courses include Environmental Studies, Value Education and Gender Studies to make education a holistic one to the young students. Various co-curricular and extra-curricular activities are conducted to supplement the curricular aspects of the academic programmes
| Our Mission
The college strives hard to realize its vision by working towards achieving the following mission statements:
To provide quality higher education to all with a special focus on educationally, economically and socially disadvantaged and under-privileged sections of the society.
To provide quality higher education incorporating the latest developments in all spheres of knowledge in order to empower the students to cope with the changing needs and demands of professional excellence at the national as well as global level.
To impart knowledge with practical, ethical, social and moral approaches, in order to hone the competencies of the students for enhancing their employability.
To identify and bring out the potentials and latent talents of the students to enable them realize their goals and objectives in their chosen areas of knowledge and activities.
To promote academic excellence and research aptitude among the students.
| Organogram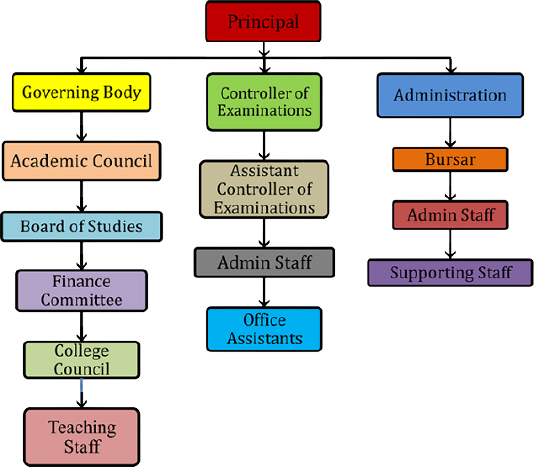 | Strategic Planning : Click to View/Download
| Books Published :